About Gurus
What is a red-crowned crane?
There are 15 kinds of vines in the world, 11 of which are said to be extinct. In Japan, there are mainly three types of cranes (nabe, mana and red-crowned cranes), but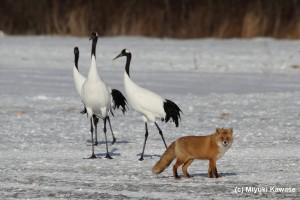 only red-crowned cranes are raised all year round in Japan.
Currently, Japanese cranes live only in eastern Hokkaido. It was observed in various places until the Edo period, but since the Meiji period it was said that the number decreased due to hunting and development and was extinct for a while. It was confirmed again in the Taisho era, and is now protected as a special natural monument.
Protecting Red-crowned cranes!
Population feeding is carried out in various parts of eastern Hokkaido to compensate for the lack of food in Red-crowned cranes in winter.
This reduced concerns about the lack of food in the winter. However, vines need a large wetland to raise their children, and rivers that don't freeze in order to get through the cold winter.
However, the favorable environment for the crane has been lost due to land reclamation and development. Protecting the vines is to protect the nature such as wetlands and rivers. Japanese cranes are nervous birds. It is necessary to be careful not to enter the place where the cranes live or to go around.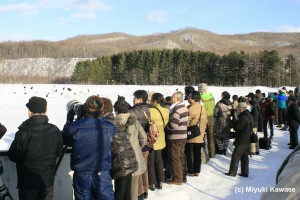 What is Akan International Crane Center?
Akan Town is known as a wintering ground for red-crowned cranes and a birthplace of population feeding, and has long been involved in protecting red-crowned cranes. The Akan International Crane Center is a new facility that conducts basic research on the ecology and behavior of Japanese cranes, protects them, and informs the results widely.
The center has an exhibition corner that provides easy-to-understand explanations about the life and habits of vines, and the structure of the body.
In addition, you can observe Japanese cranes that are bred in close proximity to nature at the farm next to the research building. In addition, mini-lectures and study sessions are planned in the lecture room.
Red-crowned cranes
which have been reduced to one step before extinction, have now increased to over 1,300 birds due to local protection activities. However, the deterioration of the habitat is still ongoing, and it is still an endangered creature.
Equipment outline
Site area
pproximately 72,000 square meters
building
Tenji-tō yaku 1, 200 heihō mētoru. Kenkyū-tō yaku 300 heihō mētoru. Yagai tenji shisetsu yaku 6, 000 heihō mētoru. Tsurusentā no shikichi-nai ni kōen to michi no eki chūshajō ga ari, pikunikku mo tanoshimemasu.
88/5000
Exhibition building approximately 1,200 square meters. About 300 square meters of research building.
Approximately 6,000 square meters of outdoor exhibition facilities.
There are park and roadside station parking lots on the site of the crane center,
You can also enjoy a picnic.

Opening hours
9:00〜17:00
closing day
Open all year round
Admission fee
Adult: 470 yen for individuals (groups of 15 or more) 350 yen each
Annual ticket 3550 yen
Child: Individual 240 yen Group (over 15 people) 170 yen each
Annual ticket 1770 yen